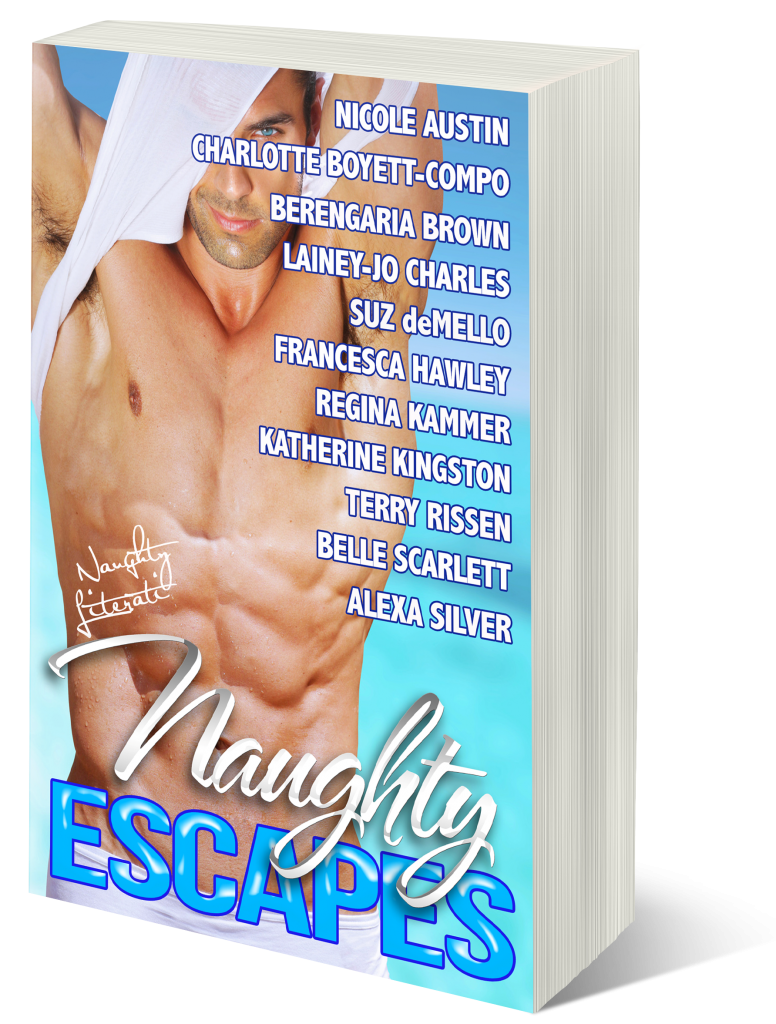 Naughty Escapes
Eleven Naughty Vacation Getaways
including BBW, BDSM, Contemporary, Dark Fantasy
M/M, Ménage, Paranormal & Shape-shifter,
from Amazon bestselling authors!
Naughty Escapes in Print

Take a naughty trip around the world with us to a penthouse playroom in San Francisco, the shore of Lake Superior, a deserted island in The Bermuda Triangle, a Mob-controlled nightclub in pre-revolutionary Havana, along the River Cam near Cambridge University in England, a sex club in Paris, a nude beach in Barcelona, the ancient Mayan ruins at Chichen Itza, a villa overlooking Lake Como in Italy, a honeymoon in Berlin, and a swanky condo in Zurich.
Hybrid Mates: Sex Me Up ~ Nicole Austin
One night at a Paris sex club—no-strings, complications or inhibitions—just lots of fantasy sex. But in the morning I forgot the most important rule. Never run from a feline predator—they live for the chase.


Part 1: The WyndMaster's Escape ~ Charlotte Boyett-Compo
A love as old as time can sometimes lead to a future one warrior never wanted.


Fireworks At The Lake ~ Berengaria Brown
Andrew didn't want to spend the Fourth of July long weekend with the people from the office so he goes to Lake Superior instead. There he sees Luke, a blond Viking who arouses every craving for love and lust inside him. But can he overcome his low self-esteem from when Rory rejected his love and open his heart to another man?


Punting on the River Cam ~ Lainey-Jo Charles
Having escaped being roped into wedding party activities, two American strangers turn a day of sightseeing in Cambridge, England into a series of passionate encounters.


One Hot Havana Night ~ Suz deMello
Havana, 1958… On the eve of the revolution, journalist Ellie Wheeler dreams of the biggest story of her life. Two hot men make all her dreams come true—even ones she didn't know she had.


Shake it Up! ~ Francesca Hawley
After a mild quake in San Francisco, Allyson Rayburn gets stuck in the same elevator as Ross Morgan, the Dom who'd been at the other end of a flogger at a private club the night before. Her day just got interesting.


Window Display ~ Regina Kammer
The apartment in Zurich was supposed to be the perfect disruption-free place to finish my dissertation. Trouble is, my room came with a very distracting view.


The Lake by Moonlight ~ Katherine Kingston
Julie Forrester returns to Lake Como in Italy to evaluate some paintings for a former professor–and to re-evaluate her relationship with the man.


Moon Dance ~ Terry Rissen
Christina and Will's honeymoon in Berlin turns potentially deadly as dark forces seek retribution for Will's past life actions. Can Christina save her beloved?


The Bermuda Love Triangle ~ Belle Scarlett
Castaway in the Bermuda Triangle, Trista finds herself torn between two sexy shifters. Neither will share her so she must choose between them. Decisions, decisions…


Get Away ~ Alexa Silver
A-list actor Bryson runs into a gorgeous—and very naked—man on a Barcelona beach. Kell looks familiar but Bry can't quite place him. After a sexually-charged meeting, they go their separate ways, or so Bry thinks. Fate comes knocking with an invitation to a party, and a date with destiny.