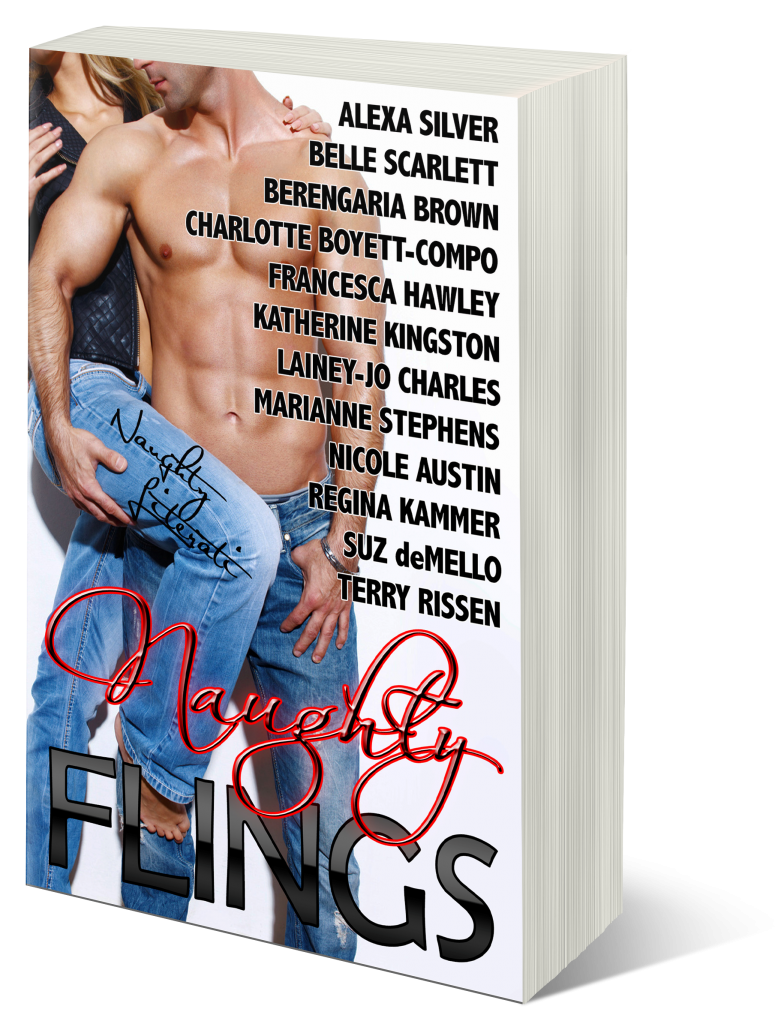 Naughty Flings
Twelve Naughty Little Romps

Including BBW, Contemporary, FemDomme, M/M, Mythological, Paranormal, Regency, Shape-shifter & Vampire from Amazon bestselling authors!
Naughty Flings Ebook



Naughty Flings Print



Stay The Night ~ Alexa Silver
When Tod finds out his favorite bookseller is a fan of his work, sparks fly, but the much younger Mel may only be looking for a fling. Can Tod convince her to stay the night—or forever?


Blood Mates: How to Blackmail a Vampire ~ Belle Scarlett
In the spring, a vampire's fancy turns to the blood lust mating hunt. A pretty, human blackmailer becomes the object of his thirst, but she's not into vampires. Yet.


The Loch Ness Monster, Romeo, and Julio ~ Berengaria Brown
Fraser Campbell and Cameron MacDonald are sent to Glasgow on business. Cam's determined to see the Loch Ness monster. Fraser just wants Cam.


The ShadowLord's Arrival ~ Charlotte Boyett-Compo
Sometimes when you try to run from fate, you trip and fall into the arms of destiny.


Teach Me To Dance ~ Francesca Hawley
Lady Lexa shares an evening of suggestive flirtation with the Duke of Kendrick. He wants to take her home, but they have unfinished business.


Phantom Affair ~ Katherine Kingston
Robert is the best lover Kelly's ever had, even though he's a ghost. If he could return, could reality live up to the fantasy?


Sticky & Sweet ~ Lainey-Jo Charles
Spring time. Parks. Baseball. Ice cream trucks. Ah, the sweet memories of youth. Ten years later, create new sweet and sticky memories as an adult.


Buying Adam ~ Marianne Stephens
Under false pretenses, Jessica wins Adam at a Charity Bachelor auction. Secret desires for each other ignite into passionate lovemaking. Will the truth divide them?


Hybrid Mates: My Kind of Lover ~ Nicole Austin
Badass biker girl, accountant, lioness shifter—I'm all that and more. And this hybrid wolf thinks he can take me on? Bring it, you sexy beast! I've got this.


Hot As Hades ~ Regina Kammer
After living in Hell for four months, Persephone returns home to the mortal realm. But can home truly be home without the man she loves?


Spring Training ~ Suz deMello
A hot pitcher finds his secret desires fulfilled by a striking new trainer, who disciplines him in ways he's only dreamed about (F/m).


Blue Plate Special ~ Terry Rissen
William's life is shrouded in secrets. Things start looking up when he meets a vivacious girl at a diner; a girl with almost as many secrets as he has.