Lainey-Jo has been an avid reader from a young age. Her active imagination has helped her dream up all sorts of scenarios and worlds for as long as she can remember. These days, she's happy doing what she loves—writing all those stories down and sharing them with her readers. She enjoys writing in different genres—from paranormal to contemporary to erotica—and her favorite part is ending her stories with a happily-ever-after, or at least a happily-for-now, representing hope for the future. Lainey-Jo loves sweets and desserts, and can always be bribed with birthday cake. She lives in the South with her husband, who loves reading her stories as much as she does writing them.
Spring time. Parks. Baseball. Ice cream trucks. Ah, the sweet memories of youth. Ten years later, create new sweet and sticky memories as an adult.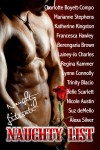 Tune Me Up
Jason catches Dani having an intimate moment with a recording of him singing to her, and is ready to move them from friends to forever.