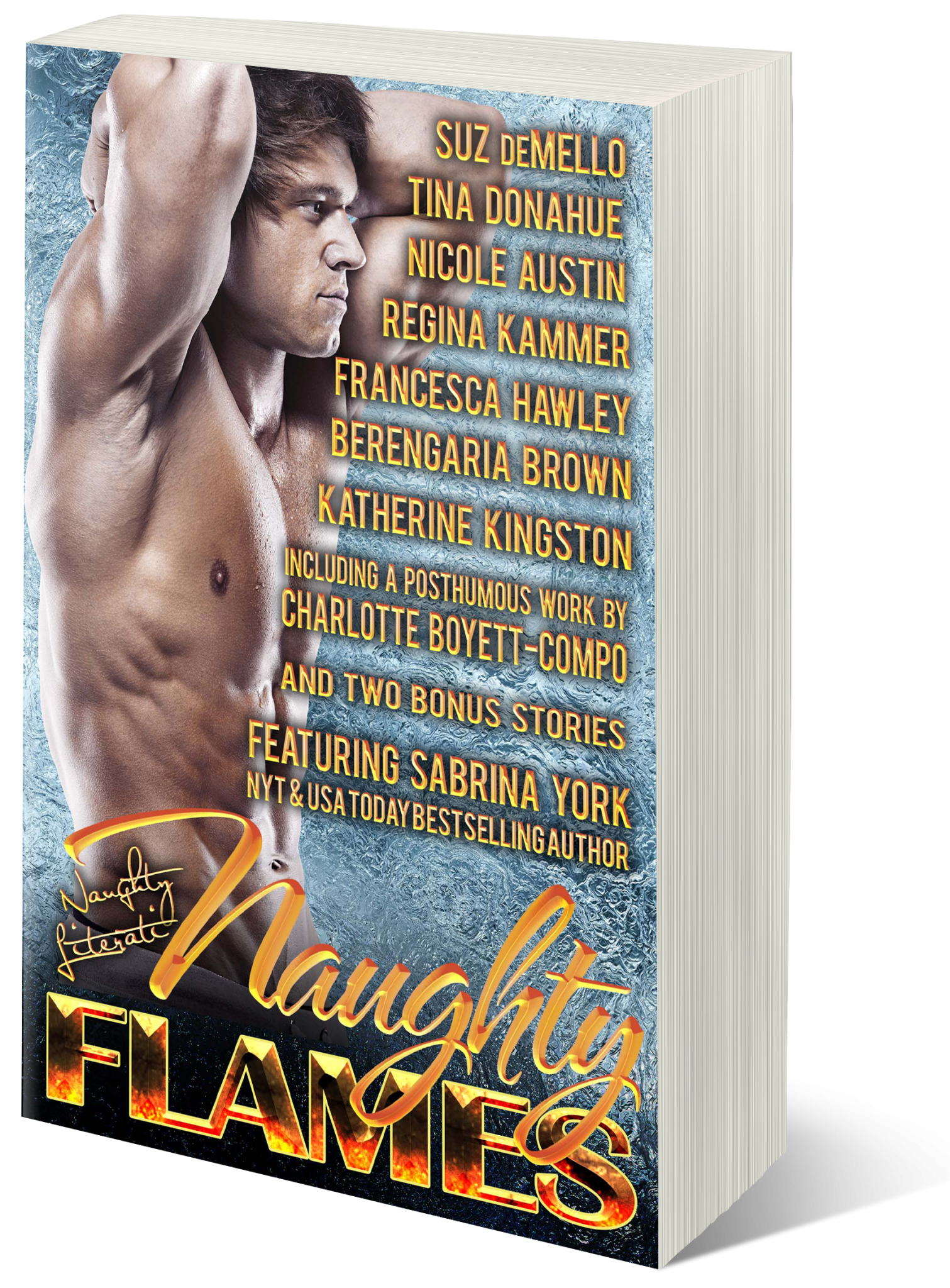 Naughty Flames
Eleven Fiery Romances

Including Contemporary, Fantasy, Historical, M/F/M, M/M, M/M/F, New Adult, Paranormal, Romantic Comedy, Romantic Suspense, Rubenesque, Shape-shifter, Stepbrother Romance & Threesome from bestselling authors

Naughty Flames in Print

Saving Sophia ~ Suz deMello
"It doesn't matter" is cynical Sophie Fortune's motto. Then her best friend is killed and Sophie herself is attacked. Can Detective Inspector Nick Wendell keep her safe and heal her heart?


My Wish Come True ~ Tina Donahue
Baby, it's hot inside…
For Laurel, Christmas so sucks. She's out of a job, money, and luck until her neighbor Scott plays Santa. This tall, dark, and sexy hunk delivers sweet decadence and holiday magic that makes being bad oh-so good.


Royal Brat ~ Nicole Austin
Loving two men, my stepbrothers, got me exiled to a foreign country. Without them I'm lost and alone, cast adrift on turbulent seas without a compass or rudder. In order to finally be together we'll have to navigate a course through the landmine infested waters of my traumatic past.


Disputed Boundaries (Stories from the San Juan Islands) ~ Regina Kammer
Garrison life along the disputed Canadian-U.S. border is so uneventful Royal Marine Braxton Thorne mostly just fools around with his fiancée Tilda. But when American adventurer Gideon Roberts provokes unexpected desires, Braxton finds himself in a war over the boundaries of his heart.


Chasing Flavorgasms ~ Francesca Hawley
When food blogger, Taylor Simmons writes a scathing review of his restaurant, John "Doc" Holliday challenges her to return so he can give her the flavorgasm she's been chasing her entire life.


Set Me On Fire ~ Berengaria Brown
Blair, Alex and Kurt meet in the stairwell of their office building during a fire drill. The building may not be burning, but they are, for each other.


Her Gargoyle Guardian ~ Katherine Kingston
Ginny decides to pursue a relationship with Ben despite the risks to her heart. She can cope with his claim that he's a shape-shifting gargoyle, but his warning that they will have only a short time together, gives her pause.


The WyndVyper's Promise ~ the final posthumous work of Charlotte Boyett-Compo
Audriana Lansing has fled her overbearing family and made a life for herself, until she gets trapped between bounty hunters searching for her and an old flame who doesn't believe in forgive and forget.


FEATURING:
Her Royal Comeuppance ~ Sabrina York
Furious at the betrayal of her once-loyal woodsman, Queen Cressida intends to make him pay. But Nicholas turns the tables, determined to thaw Her Royal Majesty with the heat of a passion she cannot resist.


BONUS MATERIAL:
Fist Me ~ Berengaria Brown
Maeve nearly fell off her barstool when sexy Taryn asked her to fist her. But is it the right thing to do?
*This previously published title has been revised and reedited.*


Pleasure Quest ~ Tina Donahue
She's into virtue. He's not. On a pleasure asteroid, he'll show her what paradise really is.