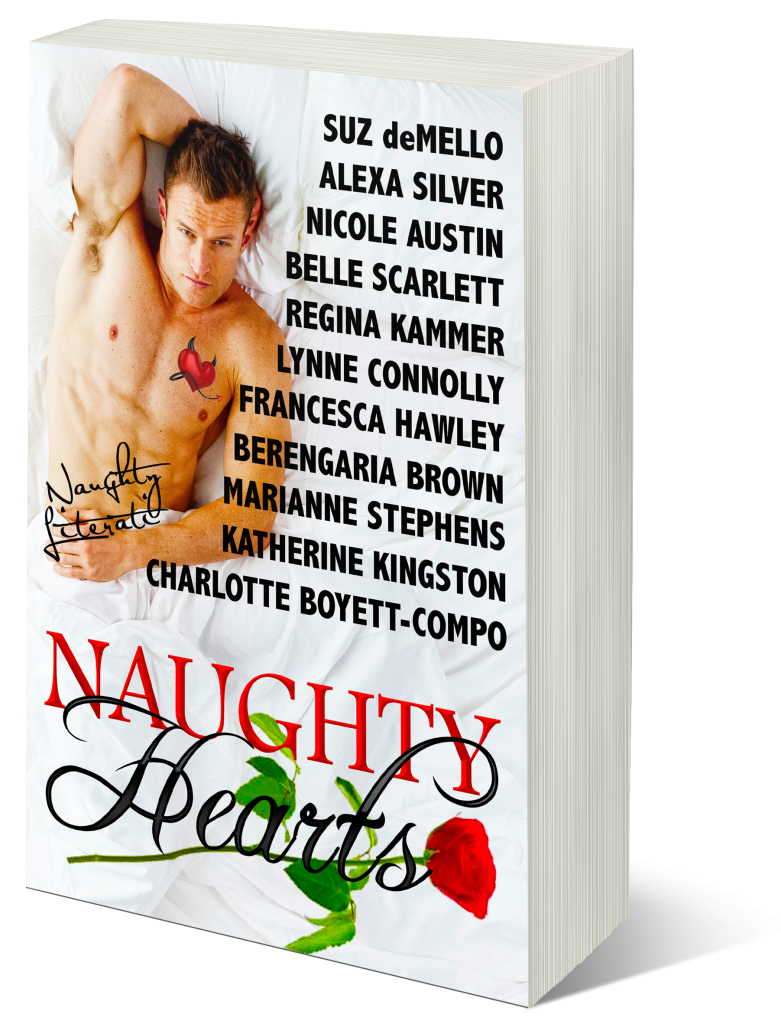 Naughty Hearts
Eleven Valentine Romances

Including Contemporary, Dark Fantasy,
Menage, M/M, M/M/F, New Adult, Paranormal,
Shape-shifter, Steampunk & Time Travel
from Amazon bestselling authors.
Naughty Hearts in Print


Naughty Balls ~ Suz deMello
Two college basketball players find themselves alone on V-Day evening. (M/F)


Love Potion #69  ~ Alexa Silver
When Keith and Jenna accidentally fall under the spell of one of her Valentine's Day love potions, lust is in the air!


Hybrid Mates: My Valentine Lovers ~ Nicole Austin
All I want for Valentine's Day is to get barbed by a feline shifter and act out a few of the naughty twin fantasies getting me hot and bothered.


Valentime ~ Belle Scarlett
Valerie buys a South Carolina plantation and discovers a Valentine addressed to her from a previous owner who bids her to return to him in 1865.


Delia's Heartthrob ~ Regina Kammer
Gadzooks! Valentine's Day is fast approaching – what's a scientist to do? Edward knows naught of romance. Can steam power prevail over chocolates to win Delia's heart?


Two Into One Goes Great  ~ Lynne Connolly
A booker at a top model agency learns she's anything but ordinary when two sexy photographers point their lenses—and more—at her.


Buy Me A Rose ~ Francesca Hawley
Jessica and Nathaniel Whitewolf celebrate their thirtieth anniversary as True Mates but they've lost their bond. Now a hot couples' retreat will get it back.


Chocolate-Coated Reunion ~ Berengaria Brown
Jake refuses to talk to Matt after he was very late on Christmas Eve. Matt's determined to reconnect with Jake on Valentine's Day.


Cupid's Curious Case ~ Marianne Stephens
Alan's last job as Cupid 84 involves neighbor Amy and a special box of candy. Both secretly desire the other. Can they find true love?


Fifty Shades of Valentine's Day ~ Katherine Kingston
Dumped on Valentine's Day! Melissa only thinks the day can't get any worse. Until she damages her hot neighbor's car, and he demands unexpected compensation.


The Reaper's Valentine  ~ Charlotte Boyett-Compo
Sometimes a Reaper has to do what a Reaper does. It would be wise for a life-mate to remember that!